People of Vision - Jane Bell
Posted on
As part of The Vision Project we took time to talk to our wonderful participants. In this series which we have called PEOPLE OF VISION, we explore how they came to join in with The Vision Project and what they have taken away from it.
Today we speak to Jane Bell, an all round creative who has challenged herself to really reaching outside of her comfort zone.
What made you get involved in the Vision Project events and workshops?
I am a very creative person and once Emma produced the Vision Project I knew I wanted to be involved.
What elements of The Vision Project have you taken part in?
I have taken part in most of the Project workshops - singing, dancing and acrylic painting. I did not think I would be able to take part in the dance as
a) I did not think I would be good enough &
b) Emma would be looking for younger dancers.....
How wrong was I!!
What about the singing element appealed to you so that you joined in?
Once I remembered The Vision Project's ethos for this project - 'Creation, Connection and Community' - I knew that I should be brave enough to take part.
I'm so glad that I did. It is a beautiful piece and feels quite surreal to be dancing to music that you have helped create. I can't wait to dance the piece in costume outside in the open air.
How have you found the singing part?
The idea of singing and being recorded which would form the base of a choreography by the incredibly talented Emma Brewer, really appealed. I would be going into the unknown and could easily find myself right out of my comfort zone, but i love a challenge.
I wasn't wrong; it was most definitely a challenge, but at the same time it was absolutely the most amazing experience.
It was fantastic to sing with very talented. Our voices blended beautifully and I think we were all blown away by the finished piece. I feel so privileged to have been given the opportunity to get involved.
5. Apart from the creative side of things - what else do you get involved in?
I also enjoy my running which I have been able to take up again since reitring. I love doing the Parkruns avery Saturday and have been brave enough to enter the odd race. I'll never be as fast as I once was before being forced to retire early from the sport due to contracting ME, but I can enjoy being well enough to run again as well as dance and sing!
There are many things that I enjoy alongside singing, painting and dancing. I adore Musical Theatre with the lovely Vicky Jukes. All the classes at First Dance Studios are wonderful and I have made some fantastic friends as a result.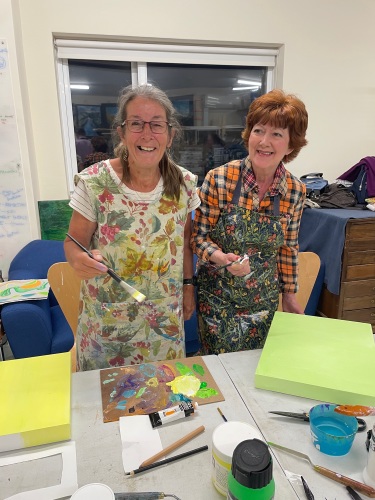 6. And a few little nightingales have told me that you are very arty and crafty - in the A-Z exhibition in Summer 2021 you sold some of your yarn work! Excellent - what else have you been working on?
Emma's Creative A-Z Challenge gave more opportunities to learn new skills. I taught myself to weave and actually sold some of my work!! I have also been known to sew felt animals, rag dolls and their clothes and Christmas angels. I also make quilts which have been very popular. I am always busy with projects and ideas on the go. I helped sew the dance costumes for the Vision Project and have painted a second acrylic piece inspired by the music and Emma's choreography.
7. What is the biggest takeaway from The Vision Project?
The biggest takeaway from the Vision Project is being part of a very special community, and realising that anything is possible.
8. What would you say to anyone who wants to give the workshops a go?
You just have to believe in yourself and go for it. You never know what you can achieve until you try.
10. And finally - can we now buy your acrylic painting - it looks amazing!
Of course; happy to oblige!!!
Many thanks to Jane for her words and we look forward to more artwork,
Emma and the Vision Project Team
xx